It doesn't matter you're new to Hanoi, you've been living here for years, or even you were born Hanoian. You just can't eat all this city's street food.
It's impossible.
So we want to make it easier for you to pick some street foods around the corners, in case you are tour-guiding new friends, or you simply want to know more about Hanoi.
We know, we know. You've been asking this question to your friends, parents, grandmom, and of course the Internet. But we believe you will be interested in our recommendations, because we are the heart of Hanoi. Read on.
#1 Dried beef salad
The first street food came up to our list has to be Dried beef salad.
Because if you ask Hanoian about this dish, they will first tell you about the sound of a big scissor coming from the street. This colorful dish with the wonderful taste and aroma definitely satisfies all gourmets.
What are in it?
The utter spiciness of chilli, the pungent flavor of herbs and the nutty taste of roasted peanut, and the crispiness of julienned green papaya. Of course, the most important ingredient is certainly the dried beef with its spicy sweetness. It is cut into big thin slices, soaked with seasoning including salt, sugar, garlic, oil, ginger, chili for about one night, then dried off by putting it into oven.
The flavoring dressing made of sugar, vinegar, fish sauce, chili, soya sauce and other seasoning is the most attention receiver, considered as the secret of each maker
Simply pour the dressing into the bowl, toss the mixture finely, top it with roasted peanuts and dried beef. Then you're good to go.
Where to eat?
Ho Hoan Kiem, Ham Long.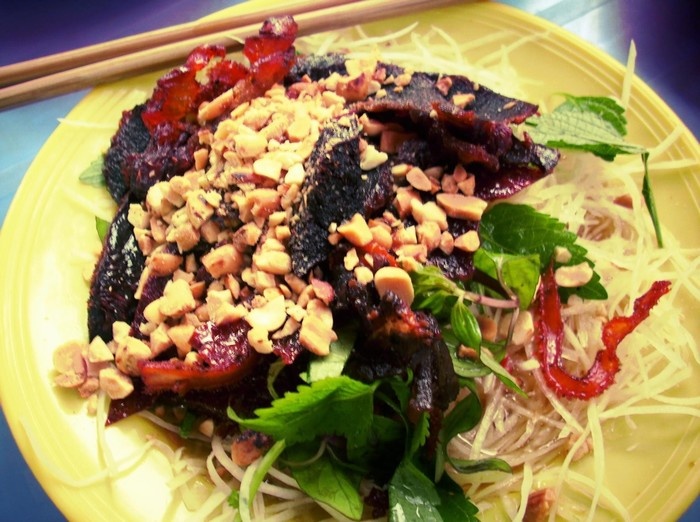 #2 Boiled Snail.
For this one, we want to go straight to the point.
You have to eat boiled snail on Dinh Liet street. That's it. It's a tiny little house, but the feeling that you are sitting intermingled with the bustling crow in Hanoi old quarter, drink the sauce bowl best known in the capital, occasionally take some fat snails is definitely an enjoyable must-try.
What are in it?
Forget it is snail for a second. All you need to focus on is the sauce. It's one of the most incredibly-electric sauce you ever try. You have ginger, chopped lime leaf, chilli, secret fish sauce in it. Enjoy!
Where to eat?
Besides Dinh Liet, you can go to other restaurants on Ham Long, Ton That Tung, and Hang Be street.
#3 Nem tai (Pig ear)
Nem tai is cleaned pork's ears which are steamed and sliced into thin small pieces. They are then mixed with powdered grilled rice. It is eaten with rice paper, fig leaves, salted fig, raw fresh vegetables and sweet and sour sauce. The dish has the crispy taste of pork's ear, the buttery and strong taste of powdered grilled rice, the cool taste of herbs, and the sweet taste of the sauce.
Where to eat?
The legend of Nem Tai is Nem Tai Ba Hong restaurant on Hang Thung street.
Let's try these 3 amazing street food first, then jump to our second part of the series. See you there.