Phở Hanoi vs Phở Saigon.
The right question for Phở Hanoi and Phở Saigon is: What are the differences between them NOT which one is better?
Ok. Let's get to the point
Phở Hanoi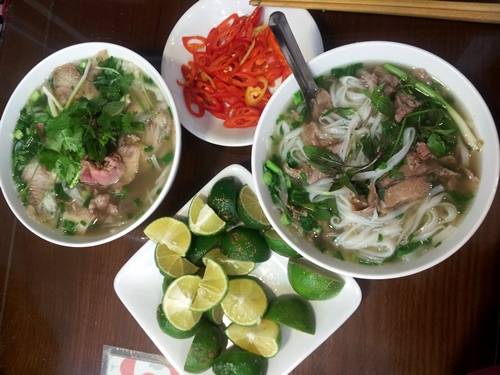 The French brought pot au feu to Vietnam and introduced the idea of slaughtering cows for food to the Vietnamese of the north. The northern regions of Vietnam are not as rich as those in the south, and food scarcity is not a stranger to a northern Vietnamese household. The northern Vietnamese get their food where they can find it, and they learned to take the beef parts and bones that their French conquerors did not want for their table. It is widely believed that this is how pho of the north, called pho bac, came to be.
Pho Hanoi has an intense and delicate flavor that is entirely different from pho Nam, which is pho of the South. The focus of pho Hanoi is on the taste of its clear and simple broth. The star anise and other spices commonly used in pho serve as subtle undertones of flavor rather than complex layers. The main ingredients in pho Hanoiare the rice noodles and the thinly sliced rare beef cooked quickly in the hot broth. You would not find a bowl of pho Hanoi topped with the popular herbs and garnishing found in pho nam or in pho outside of Vietnam.
Even today, Northern Vietnamese and pho purists consider pho Hanoi the true pho. It is not uncommon to find a person from northern Vietnam or a pho purist to turn away from lavish preparations of pho nam or from pho that is not made from beef stock. Some of them find such preparations shocking and even disgusting.
Phở Saigon
Unlike in North Vietnam, food is rich and abundant in South Vietnam. Herbs and other ingredients are used liberally. The Vietnamese of the south put their taste for the lavish on the frugal pho bac to create the classic pho nam. They put more spices in their pho than their northern counterparts. They experimented with other beef parts, and even used other ingredients such as chicken and tripe. They added bean sprouts and herb garnishing as topping on the soup. They were also very liberal about the use of fish sauce and hoisin sauce to flavor their pho.
Pho flourished, and due to its versatility and popularity, Vietnamese eat pho everyday, at any time during the day. Pho vendors do business everywhere, from pushcarts to neighborhood street stalls, from pho restaurants to elegant bistros. But most importantly, pho is the food of the working people.