Cau Go Restaurant is superbly located in the very heart of Hanoi. The bustling old quarter, the charming Hoan Kiem Lake and many of the city's finest museums are within walking distance from the restaurant… and so is a vast array of exciting activities. We open up nighttime Hanoi by providing you with the ingredients to cook up a fabulous evening in this charming city. Hanoi is undoubtedly Vietnam's culture capital, and what better way to spend an evening here than to combine a fabulous meal at Cau Go Restaurant with unique entertainment?
The Hanoi Opera House, found near the southeast corner of Hoan Kiem Lake, was modeled on the opulent Palais Garnier in Paris and is a 10-15 minute walk or short taxi ride away from Cau Go Restaurant. This architectural wedding cake is now Hanoi's premier concert hall and many of Vietnam's most loved music artists have performed here.
Like many Opera Houses across the world, the Hanoi Opera House now serves as more general events venue rather than just focusing on opera specifically. Expect international theatre, American jazz, Russian ballet troupes and Vietnamese acoustic legends- and these are just a few examples of what can be enjoyed. Large and professional events and performance companies are eyeing up the Opera House as the venue for their spectacles though nothing has been confirmed yet, so keep your eyes open for something completely new to Hanoi.
And another choice, we will be looking at one of Hanoi's most celebrated forms of traditional entertainment- Water Puppetry at the Thang Long Water Puppet Theatre. Water Puppetry is an ancient art that has existed in Vietnam for almost a thousand years. It is performed in a waist-high pool of water with a curtain that separates the puppet and the puppeteer, thus those that control the puppets are level with them, rather than above or below. The effect is fabulous, with the puppeteer able to freely control the puppets as they dance above the water, sail on miniature rowboats and even dive under water. Several puppets can be controlled by a single puppeteer as more than one puppet can be fixed onto a single underwater poll.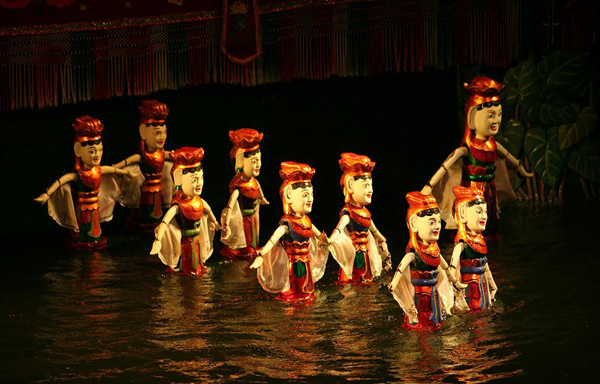 It developed in and around the Red River Delta region in the countryside as a way for villagers to entertain each other when their rice paddies were waterlogged. It is not surprising then that many of the stories are reenactments of ancient Vietnamese folktales involving gods, demons and dragons, but there are also performances displaying the mundane actions of everyday life.
Going to see the water puppets is an essential activity with any trip to Hanoi and the Thang Long Water Puppet Theatre is just a few minutes by foot from Cau Go Restaurant. They have several showings every evening and the show lasts less than an hour, so its easy to combine it with dinner either before or after. Unfortunately the timings on the website change and there is no booking system, so we recommend that you head down to the theatre as soon as possible to buy tickets and then make a reservation with us based on that.